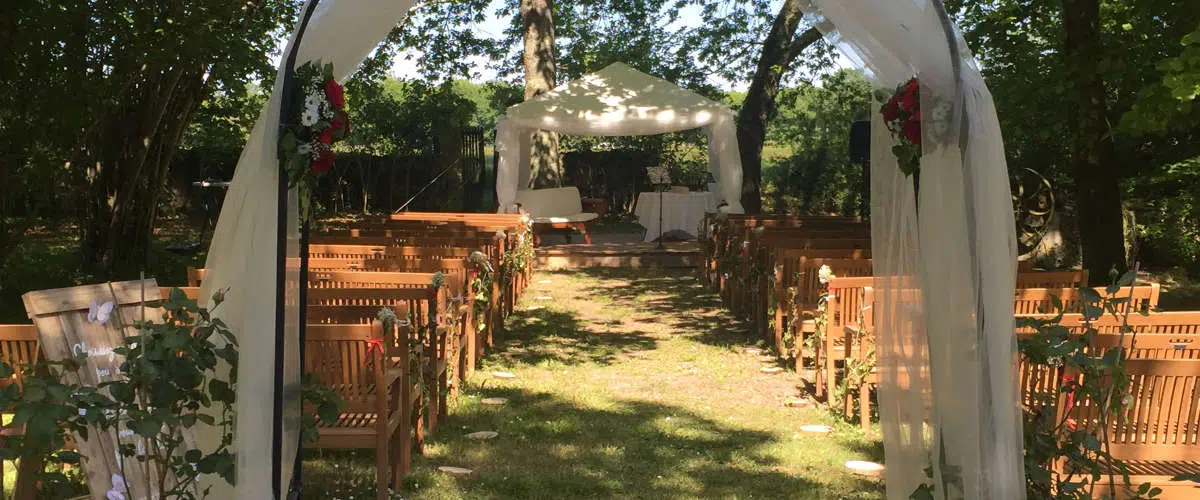 Secular Ceremony: Beware of the sun
July 6, 2017
Secular wedding ceremony, the response to a real need
July 28, 2017
Secular Ceremony: Watch out for the rain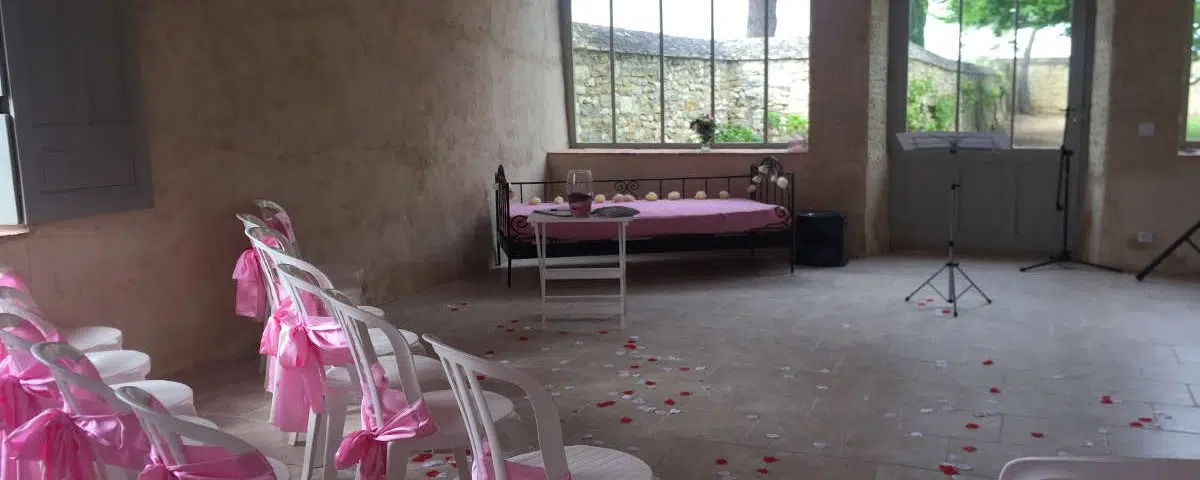 Secular Ceremony: Watch out for the rain
Dear lovers,
Are you planning a secular wedding ceremony? Are you dreaming of a magical moment in the garden of a beautiful villa, the grounds of a castle, on a beach? If so, I'm sure your first concern is: "As long as it doesn't rain!" ".
Indeed, after 8 years of activity and more than a hundred secular ceremonies under my belt, I have noticed that almost all couples have a panic fear that the rain will have the bad idea of ​​spoiling the magic of their ceremony and forces them to retreat inside.
Rain is indeed a factor to take into account. This is why I would like to share some tips with you:
1. Preferably choose a reception venue that offers a location suitable for the number of guests expected in the event of rain (reception room, barn, etc.). If you have a crush on a place that does not offer an indoor solution, include in your budget the rental of arbors allowing guests to sit comfortably. (Allow 1m² per seated person).
2. Check the weather forecast for 48 hours and make the necessary decision based on the forecast. You will certainly be tempted to keep your hopes up until the last minute and take the risk, however, I do not advise you to do so. Make your decision no later than 24 hours before your ceremony and stick to this decision. This approach will save you from unnecessary stress and will allow you and your service providers (Decorator, Florist, Wedding Planner, etc.) to prepare your secular ceremony in the best conditions. At the insistence of certain couples, I happened to begin the celebration of a secular wedding ceremony until, as expected, rain fell on the guests, forcing them to rush to dry land to finding myself standing huddled together in an unsuitable room, without decoration where I had to continue my performance. Funny but not super glamorous example: It starts to rain then the drops turn into a storm and I see all the guests soaked to the skin running to the shelters, each dragging their dripping decorative chair included!
3. Take a step back and don't blame Mother Nature: Once you accept the fact that your ceremony will take place indoors, you can relax and enjoy every moment leading up to your secular wedding ceremony. For example, the hair, makeup and dressing session should be a relaxing moment, often immortalized by your photographer/videographer. So, what memories do you want to keep from this moment? Photos of you, relaxed and radiant, enjoying this unique opportunity to get dolled up or photos of a bride-to-be on the verge of a nervous breakdown who regularly runs to the window between the manicure, the bun and the contouring, feverishly watching for the slightest rain drop ?
4. Keep in mind what is really important: Like all the couples I have had the pleasure of working with, you have certainly opted for a secular wedding ceremony because it is an opportunity for you to express your feelings of personal way and above all to share this special moment with those who matter to you. Therefore, it does not matter whether your secular ceremony takes place indoors or outdoors. What matters are the words carefully chosen by your officiant to express the feelings that bind you, it is the sincere and touching interventions of your loved ones, it is the laughter, the tears and the emotion.